About Greg Prendergast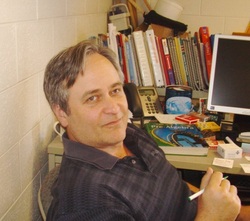 "The grass withers, the flowers fade, but the word of our God stands forever" Isaiah 40:8

This was the life verse of Greg Prendergast, a man who lived with a mission. His passion was to live each day with intensity and purpose. His priorities, learned early in life, were God and His Word first, family next, and finally people, both young and old.

Greg was born January, 23, 1957, in Redford Township, Michigan. He grew up in a family of six, three brothers and two sisters, John, Jeff, Mark, Carol, and Mary. As a family they loved to poke fun, but were always strong defenders of each other. Greg's parents had a strong influence on his life, teaching him to be a risk-taker and a problem-solver. They encouraged each child to find their own way, but keep their faith in God.

Greg attended Catholic schools and graduated from Bishop Borgess in 1975. He like to do things to extremes, so he went to college, worked part time at UPS, and bought a house to fix up at 22 years of age. In 1980, he married Linda and shortly after graduated from the University of Michigan, with a teaching degree in Math and Science. He began his career teaching at Christian schools. He taught at Catholic, Baptist, Pentecostal, and Assembly of God schools while still working at UPS and buying a second home.

Then in 1984, Michaja was born and life forever changed. Being a Dad became the top priority in his life. In 1985, Gregory Prendergast II entered the world and Greg loved to tell everyone how blessed he was. Greg loved fishing, camping, and playing sports with his kids. Greg was proud of his kids and always instilled in them positive behavior and strong work ethic. Today, his kids are both involved in the helping professions. Michaja works as an occupational therapist and Greg is a physical education teacher.

Finally, in 1989, Greg traded working at Christian schools and UPS and started working at Armada Public Schools. He continued to share his passion for mathematics and raise the bar for his students. No obstacle or challenge was too great to overcome. He loved to try and make the complex simple. He completed his Masters in Mathematics plus 30 hours at Eastern Michigan University.

Greg was a practical thinker, a problem solver, a man of conviction, independent, but trusting God to lead and direct his life. He believed in being 100% committed to whatever he did - be it raising a family, teaching, selling on e-bay, buying houses, playing chess, collecting fish lures, playing online poker, or living his life in the light of eternity.

On March 26, 2009, Greg's life was cut short. He was remembered in the following days as being a man of honor, integrity, passion and unconditional love. He impacted the lives of many throughout his life, but also through his death. His impact continues through this day not only because of the example he set, but also the people who are continually influenced by his legacy.

One way his legacy is carried out by his family is through the creation of the Greg Prendergast Memorial Foundation.

---
HOPE in action.